Upcoming Aerial Larvicide Application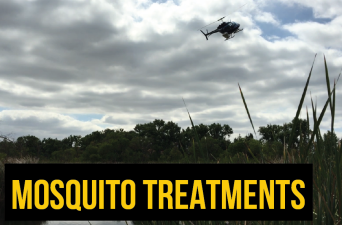 Keep an eye on the skies as helicopters will be in action over the San Elijo and San Dieguito lagoons next week. The upcoming aerial mosquito larvicide application is scheduled for Wednesday, August 30th, and Thursday, August 31st. This method is an essential part of the County Vector Control Program's commitment to protecting both community and environment in areas where manual treatment isn't feasible. There's another aerial larvicide application planned for September 20th and September 21st, if needed.
These aerial applications occur every three to four weeks during the mosquito breeding season, generally April to October, or as needed. The granular larvicides used by the Vector Control Program act specifically on mosquito larvae and will not harm people, pets, plants, or wildlife. The larvicide consists of granules containing Lysinibacillus (Bacillus) sphaericus, Bacillus thuringiensis israelensis, and/or Saccharopolyspora spinosa products. These naturally occurring bacteria target mosquito larvae and prevent them from developing into biting adults.
Learn more at Aerial Mosquito Larvicide Applications on the County's Website.
Please note, aerial larvicide application dates are subject to change depending on conditions.
If you would like to sign up to receive e-mail notifications of scheduled aerial applications, you can subscribe here.
If you encounter a mosquito problem in your neighborhood, reach out to the County Vector Control Program: