Report an Issue with Community App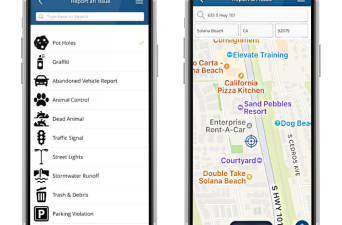 The City has many different digital platforms intended to help residents stay connected and engaged. The Solana Beach My Community App is a cloud-based mobile platform that allows residents and visitors to report location-specific concerns such as potholes, graffiti, or other matters of concern directly from their smartphone or tablet. Issues such as these that are reported through the My Community App will be assigned to appropriate City Staff based on the specific complaint type, and residents and visitors will be able to follow up on the progress of the corrective action.
In addition to submitting citizen complaints and reporting issues for remediation, the My Community App allows residents and visitors to access the City's E-blast news feed, event calendar, parks and public facilities information, and other useful contact information to supplement the City's website.
The My Community App is available in the iTunes Store (iPhone) and Google Play Store (Android) for download by searching "City of Solana Beach."