New City Hall Gallery Exhibit: "Art that Sings in Silk"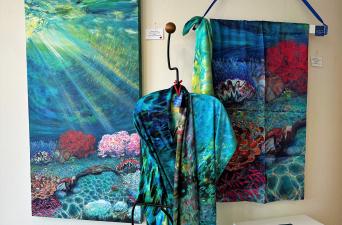 Step into a world where art and silk intertwine as the Solana Beach City Hall Gallery proudly presents "Art That Sings in Silk," a captivating exhibition by local San Diego artist, Tina Christiansen. Embark on a visual journey that brings together the elegance of hand-sewn silk kimonos and the vibrant beauty of original paintings.
Marvel at the stunning silk kimonos adorned with Tina's own artwork. These exquisite garments, meticulously crafted, showcase a fusion of artistry and textile mastery. Each kimono harmoniously echoes an original painting, allowing you to witness the transformation of art from canvas to silk.
Immerse yourself in the enchantment of nature as you explore the exhibit. Discover shimmering paintings of abalone, enhanced with iridescent pigments that capture the play of light and color. Delight in the captivating portrayals of turtles and whales, beautifully rendered with Tina's artistic touch.
The "Art That Sings in Silk" exhibit invites you to contemplate the interconnectedness of different art forms. By juxtaposing the silk kimonos with their original paintings, Tina creates a seamless dialogue between mediums, inviting you to explore the synergy of colors, textures, and expressions.
Don't miss this extraordinary showcase of Tina Christiansen's artistic vision, presented at the Solana Beach City Hall Gallery. The exhibition will be on display until June 28th, offering ample time to immerse yourself in the magical world of "Art That Sings in Silk."
Come and experience the artistry that unfolds when silk becomes a canvas, and paintings come to life through the grace of fabric. This newly installed exhibit promises a mesmerizing visual feast that will leave you inspired and captivated.