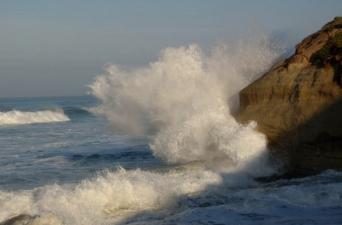 The National Weather Service as announced a High Surf Advisory. Dangerously large breaking waves are expected to start today, January 5th, into Friday, January 6th. The waves at west-facing breaks (Del Mar, Solana Beach, Encinitas) will likely run 15-20 feet! Some wave energy could arrive at over 20-second intervals, increasing the shoaling effect to produce waves over 20 feet at some beaches! High tide will occur around 8:00 am Friday morning, increasing coastal flooding and erosion risks.
Although it is expected to be dry tomorrow, runoff from today's storm will increase bacteria risk, and hazards around the coast, even for onlookers. Rip currents, longshore currents, and large surges of water will be extremely hazardous. Rogue waves are likely, which could quickly rush onto the shore, break over jetties and walls, run into parking lots, and even over parts of Highway 101. It's best to view these waves from a safe distance and not on the beach, piers, or jetties. The Solana Beach Marine Safety Department may close some beach access points throughout the City during the morning high tide to keep the public safe.
Please heed this warning, stay clear, and stay safe.
This short-lived swell should drop off quickly to around 6-7 feet or so on Saturday the 7th and a smaller Sunday the 8th. However, our next Northwest swell will be arriving shortly after, so some forerunner wave activity is possible Sunday the 8th.
Tides for Friday, January 6, 2023:
| | | |
| --- | --- | --- |
| Low | 1:55am | 2.2ft |
| High | 8:07am | 6ft |
| Low | 3:31pm | -0.8ft |
| High | 10:00pm | 3.5ft |
For more information on beach safety, please contact the Marine Safety Department at (858) 720-4444 or msafety@cosb.org.
For more information on the High Surf Advisory, please visit the National Weather Service's webpage.