Santa Fe Irrigation District Pipeline Construction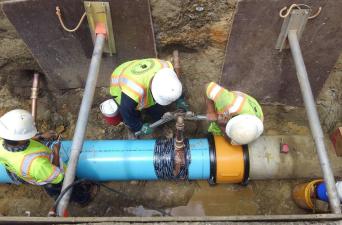 Santa Fe Irrigation District (SFID), the purveyor of water for a majority of the City of Solana Beach, is scheduling to upgrade the water pipeline system at the intersection of Lomas Santa Fe and El Viento, in Glenmont between El Viento and the water reservoir site (Larrick Resevoir), in Granados between El Viento and Cliff Street, and in Cliff Street Between Granados and Glenmont. This work is necessary to replace older water pipes that have exceeded their useful. This project is scheduled to start in early this March and will last until November 2023, weather permitting.
Due to this significant construction activity which involves heavy equipment and roadway trenching, parts of the roadway segments mentioned above will be partially closed during typical construction hours (7:00 am to 3:30 pm). Additionally, some of these roadway segments will be fully closed for limited hours. Appropriate directional signage and construction personnel will facilitate vehicular movement through the area.
Construction traffic control signs for partial street closures and detour signs for the case of full closures will be provided by the contractor. Access for local residential neighborhood to/from Lomas Santa Fe will always be provided.
Local residents that are directly impacted by this project i.e. those who live adjacent to construction zones will receive direct notification from the contractor and/or SFID, related to their specific needs. City Staff is closely working with the contractor, and SFID staff, to ensure they provide the 24-hour Emergency Services phone number, Resident Engineer's phone number and email, and the project hotline phone number. As soon as this information is available, Staff will provide to the community in future Newsletter.
Construction Project Updates | Santa Fe Irrigation District, CA (sfidwater.org)
The contact number for construction is 858-227-5800.