Winter Storm & High Wind Advisory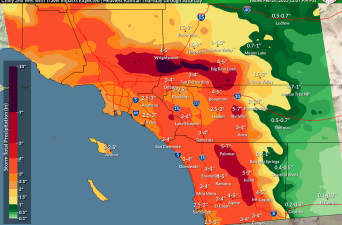 A Winter Storm and High Wind Warning has been issued for the San Diego County area. Models are expecting this to be the coldest storm of the season thus far. A series of storms bringing rain, strong winds, and cold temperatures began yesterday and are forecasted to continue through Saturday.
An atmospheric river storm starting Friday will also bring heavy rain along with near-record cold temperatures to Solana Beach, with highs forecasted in the 50s for the next few days but dropping overnight.
A polar air mass is passing through the area, bringing potentially record setting snowfall to the local mountains, but downpours and cold air temperatures to the Solana Beach area.
The strong winds will persist through Thursday morning and should diminish quickly into the afternoon and Friday morning.
A series of rainstorms will impact much of Solana Beach, with models forecasting close to three inches of rain between now and Saturday for the Coastal North County. Much of the rain will fall Friday and Saturday (up to 2" between these two days), but rains are forecasted to continue into Tuesday, February 28th.
Run-off, debris, and flooding of low-lying areas, drainages, rivers and surrounding streets is expected. At this time surf reports are expecting chest to head high waves through the weekend, but water contact is not recommended due to the general rain advisory following the significant rains. Most of the high surf is behind us, but the stormy ocean conditions are dangerous still need to be cautioned.
Please stay bundled up and safe!
For more information on beach safety, please contact the Marine Safety Department at (858) 720-4444 or msafety@cosb.org.
For more information on the Winter Storm Warning, please visit the National Weather Service's webpage.