What to Do with Sandbags After Tropical Storm Hilary: Post-Storm Tips from Experts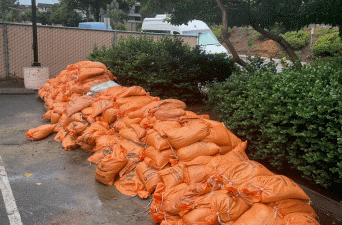 As the skies clear after the passing of Tropical Storm Hilary, residents of Solana Beach and San Diego County are left with a common question: "What should I do with the sandbags that helped fortify our homes and properties?" The County's Department of Public Works has provided valuable insights and suggestions to address this post-storm concern.
With the rainy season on the horizon, there are several smart options for managing the sandbags:
Consider Reuse: Given the approaching rainy season, it's a prudent idea to keep your sandbags for potential future use. You can store them either filled or empty, but if they are filled, ensure that the sand remains clean and dry. Store the bags in a covered, above-ground location away from direct sunlight to maintain their effectiveness.

Beneficial Landscaping: If your sandbags were not exposed to foul water, chemicals, or petroleum products, consider repurposing the sand. Rake the sand from the bags into your soil, mix it into planters, or use it as a soil amendment for your flowerbeds. This eco-friendly approach adds value to your garden while minimizing waste.

Proper Disposal: If you've decided not to reuse the sandbags, place them in regular trash cans. It's important not to put empty sandbags in the recycle bin. For sandbags that are too worn or damaged for reuse, proper disposal is essential to maintain a clean environment.

Landfill Drop-off: For residents who are unable to repurpose the sandbags at home, local landfills are available to accept them. Landfills like Miramar, Sycamore, Otay, and Borrego Springs are equipped to receive sandbags that were used for stormwater control during the recent cyclone. To ensure a smooth process, it's advised not to place full sandbags in regular trash carts, bins, or dumpsters, as they can be too heavy for waste disposal services to handle.

Contaminated Sandbags: If you suspect that your sandbags have been contaminated by sewage, chemicals, or petroleum products, it's crucial to handle them with protective gear, such as gloves and eyewear. Proper disposal options include bringing them to select landfills or arranging disposal through a hazardous waste contractor. It's recommended to contact the landfill facility beforehand, as additional protocols and documentation might be required.

City-Specific Information: Residents of Solana Beach or other cities within the county should also consult with their local jurisdiction or trash contractor for specific guidance on sandbag disposal and reuse.
For any queries not covered in this guide, unincorporated county residents can reach out to 1-877-R-1-EARTH or 1-877-713-2784 for assistance and further information.
Thanks for preparing for the storm. For the latest emergency updates in English and Spanish, visit AlertSanDiego.org and download the SD Emergency app. There you will find more preparedness tips to keep you and your family safe.