Solana Beach Senior Center October Events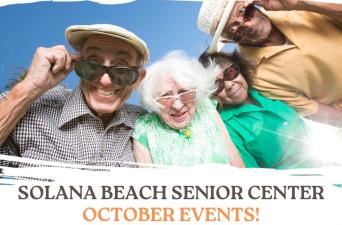 The Senior Center is open for another adventurous season.
Be sure to check out the latest edition of our newsletter to see what is happening in October. The November-December newsletter is out now!
Wednesday Programs and Lunch
The Senior Center opens on Wednesdays at 10 am for activities, fellowship and fun. Their Wednesday Programs begin at 11:30 am and conclude at 12:15 pm. Lara Pauley caters the delicious meals which are served after the program. The cost for lunch is $8, or $9 if you'd like an order to-go.
PLEASE NOTE: Reservations for lunch are required one week in advance. Call 858-509-2587 to reserve your lunch.
October Programs:
October 4: Glenn Kramer plays Name That Tune!
October 11: Celebrate October Birthdays with the wonderful melodies and enthusiasm of Peter Seltser.
October 18: Mission Focus: Pathways to Citizenship - Sonya Williams.
October 25: Oktoberfest with the delightful musical ensemble of Adrienne Nims and Mark Danisovszky.
November Programs:
Nov 1: Artist Grace Chow presents 'Chinese Painting: A Personal Journey.' Enjoy the art and learn of the inspiration of this local artist. Grace has taught painting as well as exhibited both her western watercolors/mixed media works and Chinese brush paintings on numerous occasions, in both juried and private shows. We'll have photos of her art on the big screens for your viewing enjoyment. Menu: Asian Rice Bowls
Nov 8: Mission Focus: Compassion International update with Judy Enns. Hear firsthand about the trip to El Salvador last July and get an update on the good things happening there – through your support of our Compassion International sponsored child, Stephanie. Menu: El Salvadoran Papusas
Nov 15: Blind Pianist, Vincent Young performs a variety of songs celebrating both our Veterans and our gratitude. We'll also celebrate November Birthdays, thanks to sponsor: Mt Miguel Covenant Village. Menu: Lara's Thanksgiving Feast
Nov 22: CLOSED for Thanksgiving
Nov 29: Daniel Newheiser, a graduate of the USC Thornton School of Music with 20 years of experience as a professional musician, y
Memory Cafe
Come get connected and keep your brain active! The Memory Café is an enjoyable gathering for older adults to socialize, learn about keeping their brains healthy, and have some fun! Join us on the following Thursdays (Oct. 26, Nov. 9, & Dec. 14) from 10-11:30 am at SBPC in the Hispanic Chapel, located in Parking lot #3.
Questions? Or, to get connected, call Shannon Patel at 619-616-7988 or Spatel@glenner.org.
Sponsored by George G. Glenner Alzheimer's Family Centers.
Feeling Fit Club (FFC)
Sue Grant happily leads the Feeling Fit Club each Monday and Wednesday from 8:30-9:30 am. Monday classes will continue to meet via Zoom only. The FFC will meet BOTH in person AND on Zoom on Wednesdays. The class will meet in the Fuel Room (in the Children's Ministry building directly across the patio from Debin Hall). This location provides both indoor and outdoor options as well as Wi-Fi for Zoom capabilities. You are welcome to participate on one or both days. There is no fee as FFC is sponsored by San Diego County's Aging and Independent Services. To sign up to receive the Zoom invitation, please contact Cathy at 858-342-9716
Fun and Games
Do you enjoy playing Bridge, Hand and Foot, Canasta, Scrabble, or Mahjong? How about Mexican Train Dominoes, Yahtzee or Rummikub? Games keep your mind sharp. You're invited to come on Wednesdays to Debin Hall at 10 am to see who's playing what and join right in. Knitters & Crocheters are warmly welcome, too! Join the crafter group in Debin Hall as well for a time of handwork & chatting. We'll set up the tables, and provide most games/ craft supplies, you provide the fun! All these groups end at 11:20 to settle in for the program at 11:30 sharp!
The Music Appreciation Class
Do you have a love for fine music, then this class is for you! Join our favorite Senior Center music man, Randy Malin, as he shares his love of music in person!. Back on a new day, join this free class on the 1st and 3rd Thursdays of the month, 10 am to noon in the New Chapel. Note: Class start date is October 5th.
Book Club
The Book Club will be enjoying another season of great literature and discussions with friends. Everyone is Welcome to Join! The Book Club meet on the 2nd Wednesdays of the month at 1:15 pm in Room 15. October Discussion: One Book San Diego (announced Aug. 19th) Copies of the One Book San Diego choice will be distributed in September and discussed on Wednesday, October 11th at 1:15 pm in Room 15.
Our Book Club membership is growing! The wonderful Solana Beach Library staff is challenged to find enough copies of the requested books to meet our group's need. To ensure you get a copy of the book each month, please consider the following:
The library system will no longer purchase audio discs.
Large print books will be sourced if the library has them.
Please activate your LIBBY online library card. We've learned that both audio and printed books can be downloaded. If you have questions about LIBBY, please contact the library staff for assistance.
Consider purchasing a used copy of the upcoming books.
Questions? Or interest in joining the book club. Contact Carol Pletcher at 858-248-3528 or pletcher.carol@gmail.com.
Silver Age Yoga
New instructor, Elizabeth Young, will lead the Silver Age Yoga class this fall in Debin Hall's lower level, Room 16, from 11 am - noon on Fridays. Designed specifically for the needs of seniors of all ability levels, this "chair only" class means no mats and no getting on the floor. There are some standing postures, but these can all be done with the help of a chair if needed. There is no fee, but donations are welcome for non-profit Silver Age Yoga. Class meets weekly, beginning Friday, September 8th.
Ginny's Sewing Fellowship
Do you like to sew? This group of lovely gals meets at 10 am on the 1st and 3rd Tuesday of the month in Debin Hall's lower level, Room 16. Join in the fun and fellowship, and they often bring lunch to enjoy together afterwards. For more information on this sewing group please contact Cindy or Elizabeth at 858-509-2587.