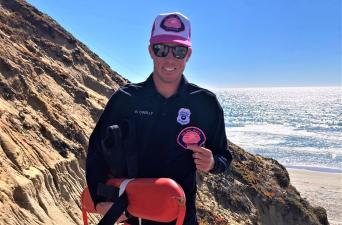 In honor of Breast Cancer Awareness Month, the Solana Beach Marine Safety Department and the North County Sheriff's Department will be proudly wearing pink patches on their uniforms during the month of October. These Solana Beach public safety agencies have come together with agencies around the world to help combat breast cancer by increasing public awareness and raising funds for the fight against the breast cancer.
You can support this initiative by purchasing these pink patches and wearing them throughout October. They are available at the Fletcher Cove Marine Safety Center, 111 S. Sierra Avenue, Solana Beach CA, 92075 anytime between 10am-5pm, Monday through Friday. All proceeds from the patch sales will be donated to the Susan G Komen Breast Cancer Foundation.
Pink Patch Project
The Pink Patch Project is a collaborative campaign effort with hundreds of public safety agencies throughout the nation designed to bring attention to the fight against breast cancer and to support breast cancer research organizations in combating this devastating disease. The campaign centers on vibrant pink versions of the public safety employee's uniform patch. The pink patches are intended to stimulate conversation with the community and to encourage public awareness about the importance of early detection and the on-going fight against this disease.
These bright pink patches have been specially designed by each participating agency specifically for their Pink Patch Project participation. Public safety employees at each of the participating agencies wear their pink patches on their regular duty uniforms each year for the entire month of October during "Breast Cancer Awareness Month."
The Pink Patch Project's main goal is to increase public awareness about the life-saving benefits of early detection and early intervention in the fight against breast cancer. In addition to their public education efforts, funds raised from the sale of Pink Patch Project patches and other items to go directly to fund the research, treatment and education needed to help find a cure.
The Pink Patch Project was started in 2013 by the Seal Beach Police Department, and has now spread to many public safety departments in California and beyond. Today, the program has expanded to several hundred partner agencies throughout the world and includes partners from police, sheriff, fire, EMS and federal departments worldwide. Through the sales of the collectible pink uniform patches, public safety agencies world-wide are helping to bring an end to breast cancer.
To learn more about breast cancer, breast cancer symptoms, breast cancer risk factors and diagnosis, breast cancer research and breast cancer in men, click here.
To learn more about the efforts and donation options for the Pink Patch Project, click here.