Junior Lifeguard & Summer Camp Registration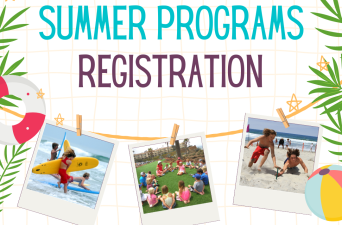 Need a place for your kids to have fun, make new friends, and learn lifelong skills?
The City offers a wide variety of youth programming options for children during Summer break. Your kids will have a great time at one of our exciting summer programs, making lasting memories and new friends. From group games and seasonal arts & crafts to sports and fitness sessions and beyond, we have something for every child. Your little camper will come home with stories about the crafts they made, the games they played, the new dance moves and songs they learned, and the friends they made. Our professional staff have fun activities planned every day, so no day is ever the same.​
Junior Lifeguard Program
The Solana Beach Junior Lifeguard Program has a long history of serving our community by providing youth, ages 7-16, with an ocean safety program that combines athletics, ocean-related curriculum, and fun.
Junior Lifeguard registration will open Monday, February 27th at 9:00 AM for all participants.
Check out the Junior Lifeguards website for more information.
Summer Day Camp
The Solana Beach Summer Day Camps offers a variety of week long adventures for ages 5-11 that includes activities such as beach games, swimming, arts & crafts, Library visit, games, friends, and a Wednesday field trip to an exciting destination.
Summer Day Camp registration for Solana Beach residents will open Wednesday, March 1st, at 8:00 AM, and registration for non-Solana Beach residents will open on Tuesday, March 7th at 8:00 AM.
Check out the Summer Day Camps website for more information.