Food Donation 101: Best Practices for Businesses Starting a Food Donation Program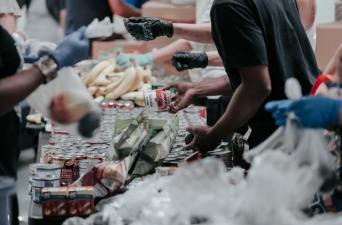 Is your business tired of throwing out perfectly good food? Are you looking for ways to save money on your waste hauling costs? A new law is here to help!
SB 1383 is a new state law that seeks to reduce the amount of excess edible food going to landfills by 20%, and reduce the amount of organic waste going to landfill by 75% by 2025. Cities and counties are required to implement a variety of programs to advance these goals, and the California Department of Resources Recycling and Recovery (CalRecycle) has the authority to enforce participation and penalize non-compliance.
To meet these requirements, businesses of a certain size and capacity, known as Tier 1 and Tier 2 generators, will be required to establish food scrap recycling programs and donate the maximum amount of edible food that would otherwise be thrown away in the trash. Your business may be subject to these requirements. Tier 1 generators can include supermarkets or grocery stores and Tier 2 generators can include large venues, some restaurants, hotels, health facilities and schools with cafeterias.
Want to learn more about how to establish a successful food donation program, and meet the requirements of SB 1383? The Regional Solid Waste Association invites your business to view Food Donation 101: Best Practices for Starting a Food Donation Program.
This 1-hour virtual webinar, facilitated by the San Diego Food System Alliance, includes an overview of SB 1383 requirements and provide a breakdown of food donation best practices for your business. The webinar will also features local food donation experts and a video case study showing food donation in action!
If you have any questions, please contact Sarah Feteih (sarah@sdfsa.org)