Another Round of Dangerous High Surf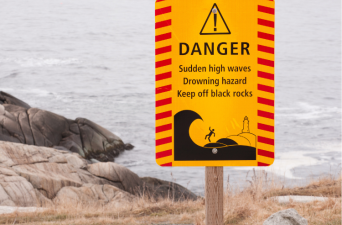 Another round of dangerous high surf will be taking place this Friday through Sunday. When the peak swell arrives in the later part of the morning on Friday, it could produce waves running up to 15 feet with some standout locations seeing waves of up to 20 feet. Even before the peak times, rogue waves and forerunners are likely early Friday morning. This swell will stick around longer than the last one and should run through Sunday the 15th before backing down to 5-7 feet Monday the 16th. Lifeguards recommend that the high surf is for expert surfers only. Please know your limits!
Beach walking during these high surf events is not recommended and can be very dangerous! What may seem like a lovely wide beach can be gone in seconds due to the mighty ocean surges washing across the beach to the base of the coastal bluffs, even during low tide!
Runoff from the storm will increase bacteria risk, and hazards around the coast, even for onlookers. Rip currents, longshore currents, and large surges of water will be extremely hazardous. Rogue waves are likely, which could quickly rush onto the shore, break over jetties and walls, run into parking lots, and even over parts of Highway 101. It's best to view these waves from a safe distance and not on the beach, piers, or jetties. The Solana Beach Marine Safety Department may close some beach access points throughout the City during the morning high tide to keep the public safe.
Please heed this warning, stay clear, and stay safe.
Friday Tides: Saturday Tides:
| | | | | | |
| --- | --- | --- | --- | --- | --- |
| High | 1:35am | 3.9ft | High | 2:20am | 4.2ft |
| Low | 7:07am | 2.3ft | Low | 8:46am | 2.1ft |
| High | 12:31pm | 3.6ft | High | 1:56pm | 3.1ft |
| Low | 7:10pm | 1ft | Low | 7:53pm | 1.5ft |