"Wild Legacies" Opening Reception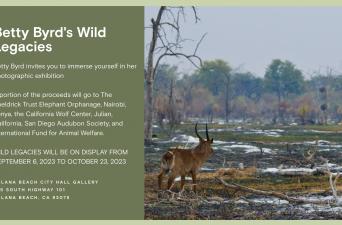 Join us for an unforgettable evening of art and conservation at Solana Beach's newest City Hall Gallery Exhibition, featuring "WILD LEGACIES" by renowned wildlife photographer and award-winning novelist, Betty Byrd. Immerse yourself in Betty's captivating photographs that celebrate the beauty and soulfulness of our planet's most vulnerable and endangered animals.
The special reception will take place on Saturday, September 30, 2023, from 4-6 PM.
A portion of the proceeds from this exhibition will support vital organizations like The Sheldrick Trust Elephant Orphanage, the California Wolf Center, San Diego Audubon Society, and the International Fund for Animal Welfare.
Don't miss this opportunity to be inspired and give a voice to the voiceless while appreciating the wonders of the natural world through Betty Byrd's lens.