Meet & Greet County Supervisor Terra Lawson-Remer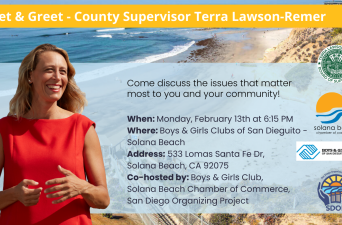 District 3 County Supervisor Terra Lawson-Remer will be holding a "Solana Beach Neighborhood Meet & Greet" on Monday, February 13th. This event is co-hosted by the Solana Beach Chamber of Commerce, Boys and Girls Clubs of San Dieguito, and the San Diego Organizing Project.
The Meet & Greet will take place at the Solana Beach Boys & Girls Clubs at 6:15 PM. (map)
This is a great opportunity to come and discuss the issues that are most important to you and your family. Additionally, staff will be present to assist any constituents needing help with a county issue as the county provides a multitude of resources. 
While the event is FREE and open to the public, we want to ensure we have enough refreshments for you. Please RSVP here. I am looking forward to seeing you.