Fall Bulky-Item Cleanup Day!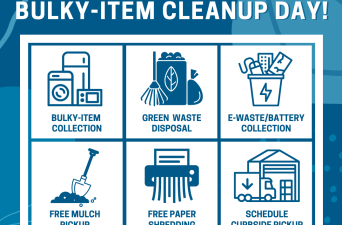 The City has partnered with EDCO to host the Solana Beach Bulky-Item Cleanup Day! This year's event will be on Saturday, October 7, 2023, from 9:00 AM to 12:00 PM in the La Colonia Community Center parking lot, 715 Valley Avenue, at the Valley Avenue entrance. The clean-up event will have mulch available for self-load/self-haul, certified shredding trucks that will shred all items on site, and will also be collecting unwanted electronic and universal waste. Debris from contractors, landscapers or commercial businesses will NOT be accepted. NO household hazardous waste and NO tires will be accepted!
Free E-Waste and Battery Collection! Unwanted electronic and old batteries will also be collected at the event including TVs, computer monitors, printers, fax machines, VCRs, DVD players, cell phones and answering machines.
Free Mulch! EDCO will have mulch available for self-load/self-haul at the clean-up event at no cost. Come early and bring a shovel to get your mulch while it lasts! Limit of 3 cans/bags per vehicle. If you plan to haul your mulch in an open truck or trailer, please remember to bring a tarp to cover your material.
Free Paper Shredding! Protect the security of your confidential information by shredding your personal documents. There will be certified shredding trucks on site during the event and all items will be shredded ON SITE! Limited to two banker boxes (10"x12"x15") per household.
Curbside Bulky-item Cleanup! In addition to the on-site services, this event offers a free curbside bulky-item cleanup option! Curbside bulky-item cleanup gives residents the opportunity to place trash, green waste and up to four bulky items at the curb that would be too large or heavy to put inside collection carts, such as, broken appliances, water heaters, furniture, old mattresses (please wrap mattresses prior to setting out – special mattress disposal bags can be purchased at hardware stores or on their websites), and other miscellaneous bulky household clutter.
To participate in the free curbside service, residents are required to register in advance. Registration begins the week of September 25th by calling (858) 350-8544. Residents must put items out curbside by 7 AM on Saturday, October 7, 2023 for collection. Before setting out unwanted items to be collected, please consider whether anything can be reused or recycled. Old clothes, toys, furniture, etc. can be donated to your local Goodwill, Salvation Army, St. Vincent de Paul or other charity.
All yard waste will be recycled and must be bagged or bundled. Tree trimmings should be cut into 3' lengths and tied securely into bundles not greater than 18" in diameter. Debris from contractors, landscapers or commercial businesses will NOT be accepted. No Hazardous Waste Accepted.
Bulky-Item Cleanup Day is a free event and is open to Solana Beach residents only.