City Hall Gallery Opening Reception: "Consciousness: Making the Unseen Seen"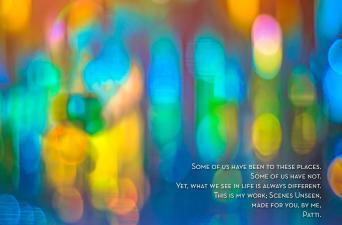 Prepare to be enchanted by the vibrant and colorful world of California-based life photography artist and portrait creator, Patti Andre. Her expansive body of work is a treasure trove of visual delight, encompassing an array of genres, each brimming with captivating subjects and creativity.
Her unique approach to digital image processing, composition, and ease with subjects continues to set her work apart from others. She begins with the ordinary, traversing the world and observing her surroundings. With an artist's eye, she produces visual imagery that ranges from story telling portraits to commercial and editorial masterpieces which either soothe your soul or set your spirit ablaze with a vibrant array of emotions.
Patti embraces a philosophy that art thrives on variety, ensuring every photograph she captures is a fresh adventure for both herself and her audience. As she aptly puts it, "I will never have one style of photography - it limits my creativity." Her art invites each viewer to explore how a piece personally resonates, inspiring them to fall in love.
Join City and the Public Arts Commission on Saturday, November 18th from 3:30 PM - 5:30 PM, to celebrate the opening of Patti Andre's first solo exhibit.
please visit the City's City Hall Gallery website for more information on this exhibit