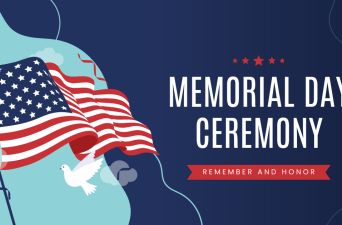 The City of Solana Beach and Solana Beach Veterans of Foreign Wars (VFW) Post 5431 cordially invite you to our annual Memorial Day ceremony on Monday, May 29, 2023. From 11am to noon, join us at the La Colonia Park Veterans Honor Courtyard, located at 715 Valley Avenue, as we pay tribute to the brave men and women who made the ultimate sacrifice in service to our country.
During the ceremony, we are privileged to have the Camp Pendleton Young Marines as our honor guard, showcasing the bravery of our young servicemembers. Collin Farrar, an inspiring student from Mira Mesa High School, will deliver thought-provoking reflections on the significance of remembrance and honoring our fallen heroes.
Solana Beach Mayor Lesa Heebner and VFW Post 5431 Commander Julian Gonzales will express their heartfelt gratitude for the bravery and selflessness of our veterans.
The Santa Fe Christian School Band will fill the air with patriotic melodies, reminding us of our resilient national spirit. Witness the "Feathers from Heaven" dove release, gracefully orchestrated by Joe and Leslie Irwin, symbolizing peace and the eternal memory of our fallen heroes.
While you're here, take a moment to reflect at the Veteran's Memorial wall, a tribute to all Solana Beach Veterans of Foreign Wars. Knowledgeable docents from the Civic and Historical Society will be available to provide tours of the Historical Museum, offering a glimpse into our community's rich history.
Let us join together as a community on this day to remember and honor those who made the ultimate sacrifice for our nation. We look forward to seeing you there.
Light refreshments will be served. The event is free of charge and open to the public.
For more information, please call 858-720-2453.