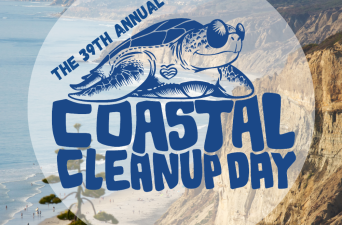 The Ocean Conservancy and the California Coastal Commission partners with volunteer organizations, such as I Love A Clean San Diego to create the largest, international cleanup day. I Love A Clean San Diego leads the efforts for this day in San Diego County for the 39th year in a row. Data collected from this event feeds into the world's largest database on marine debris. Join our efforts this year to be apart of this global event!
I Love A Clean San Diego
Over 269,000 volunteers and 5 million pounds of litter and debris removed since 1985.
I Love A Clean San Diego has served as the official organizer of Coastal Cleanup Day in San Diego County since it was founded in 1985. San Diego's Coastal Cleanup Day is a major part of the International Coastal Cleanup, which is facilitated by The Ocean Conservancy and organized statewide by the California Coastal Commission! The International Coastal Cleanup includes many U.S. states, territories, and over 70 countries. In California, data is reported to the California Coastal Commission and funneled into the world's largest marine database. By volunteering for Coastal Cleanup Day in San Diego, you are joining hundreds of thousands of volunteers all over the world to remove pollution from our ecosystems!
Get Involved
Anyone can do it! Volunteer as an individual, with friends and family or as a corporate team. All ages welcome.
There are many ways to support the efforts of Coastal Cleanup Day with I Love A Clean San Diego:
Volunteering on the day – choose from any of the cleanup sites around the county
Volunteering to be a site captain and lead the cleanup yourself for members of the public
Donating – financial support or giveaways/supplies for our volunteers
Sponsoring the event
Promoting the event and spreading the message
Registration opens September 1, this is when you will be able to see all the site options. To register you must create an account on our Community Hub. From there you can pick any location you would like and register as an individual or for a whole group when you click the blue sign up button on the specific location's webpage.